Step Bathtub
$48.50
Step Bathtub
Step Foot Stool
Brand New Hospital grade medical equipment for home or medical office use.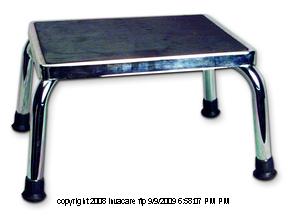 Sturdy foot stool is a great gift for retired seniors who have a hard time reaching high places in thier home.
The footstool eliminates troubles making it easier to get to necessities in their house.
Nonslip features make this stool an alternative for disabled bathers to step over the bathtub when a walk in tub isn't an option.
The footstool has:
Chrome-plated frame with rubber tips

Rubber pad covers foot plate

Weight capacity: 250 lbs.
Free shipping in the Continental United States

For Customer Service please email: Steve@MedAME.Com

Exam & patient room set ups are our specialty. Please call or check our eBay store if you need any other equipment.

DO NOT BUY THIS ITEM UNLESS IT WILL BE SHIPPED TO A PHYSICAL ADDRESS IN THE CONTINENTAL UNITED STATES.

IT CANNOT BE SHIPPED TO HAWAII, ALASKA, PUERTO RICO, US TERRITORIES OR ANY COUTNRY OUTSIDE OF THE USA.

SORRY NOT OUR CHOICE

http://www.medame.com/theme/isg_images_72dpi/ISGHE10890000_bw.jpg 48.50 ISGHE10890000